Quickly Protect Your Content With
WishList Member
Downloaded and Activated on 120,062 membership sites, courses and online communities since 2008 and that number grows every day.
EVERYTHING YOU NEED - SIMPLE AND EASY TO USE
Here's Your Complete
Membership Site Toolbox...
Get unlimited membership levels and members with every WishList Member site. No upsells or advertising. When you sign up, you get everything we have to offer.
Collect payments your way: Integrate with your preferred processor in less than 5 minutes. Offer free trials, recurring and one-time payments, and customize buy buttons
Connect with virtually any WordPress theme to design your site however you like. Offer unlimited membership levels, free and paid permissions—configure it exactly how you want it.
WishList Member has a robust FAQ, knowledgebase, and video tutorials. Plus, there's a dedicated support team committed to making sure your membership community thrives.
Your Favorite Integrations
Take your membership to a new level with popular integrations like Zapier, WooCommerce, dozens of email service providers, and much more.
Access a full REST API and WordPress style template tags if you want to custom code a membership site to automate your entire membership workflow top to bottom.
Unlock the revenue-boosting power of online courses with CourseCure. Craft compelling courses, quizzes, and more in a matter of clicks. Include in both our plans.
Member Management & Stats
Create custom login pages, see your membership stats at a glance, and manage your site from an easy-to-use dashboard right in WordPress.
Set Up Your Site QUICKLY & EASILY!
Simple Getting Started Wizard & Videos

When you activate WishList Member, you'll get step-by-step onboarding that makes setup a total breeze.
One-click content protection
Create pages or posts in WordPress, click "Protect" right in the editor, select which membership levels get access, and you're all set.
Enable features as you need them. Starting out, most advanced features are turned off to give you a simple yet scalable setup.
What are People Saying About WishList Member?
WHY SO MANY PEOPLE CHOOSE WISHLIST MEMBER
Flexibility & Freedom to Create
the Membership Site of Your Dreams
While working with all the tools you're already using…
PROTECT MEMBER-ONLY CONTENT
Built for security & performance
Give readers a premium all-access pass or build membership levels for tiered viewing privileges. You choose the pages, posts, and files each member can access. Convert new members with partial access pages.
DRIP, SCHEDULE, ARCHIVE, PAY PER POST
With WishList Member, you can drip your best articles to new members, schedule post access by date, and set up pay per post. Archive limited-time content by date or after a set number of days.
ENGAGE MEMBERS WITH COURSES, QUIZZES, AND MORE
Create Courses Quick & Easy
Boost Engagement and sign-ups with captivating online courses, interactive quizzes and more. Get your course up and ready in a few simple steps with CourseCure.
Integrate Your Entire Membership Workflow
Work with the same tools you're using today alongside WishList Member
Are you ready to launch your membership site, online course or community? With WishList Member, you can be up and running in just a few minutes from now — all with fast and friendly support to assist!
You're Never Alone with WishList Member
Our Support Desk is here for you every step of the way alongside our FAQs, knowledge base, and video tutorials.
Video Tutorials & In-Depth Guides
Access our WordPress Basics Course, 30+ how-to videos, and 100+ pages of support guides to help you build your site.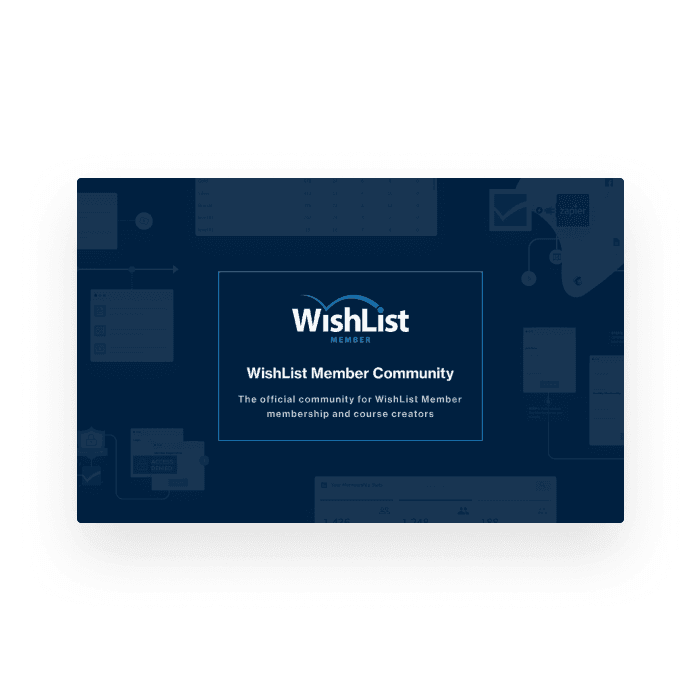 Join the Official WishList Member Facebook group to ask questions and connect with other online entrepreneurs & creators.
It's Time to Get Started!
Are you ready to launch your membership site, online course or community? With WishList Member, you can be up and running in just a few minutes from now – with friendly support ready to assist you!